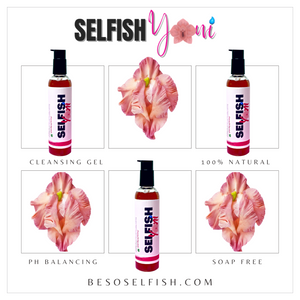 Selfish Yoni Gel Cleanser, the ultimate solution for gentle yet effective cleansing of your intimate area. Our 100% natural Yoni Cleansing Gel is soap-free and pH balanced to keep your intimate area fresh and healthy.
Say goodbye to common feminine issues like bacterial vaginosis, yeast infections, vaginal dryness, and odor. Our Yoni Gel Cleanser is specially formulated to combat these issues without the use of harsh chemicals, fragrances, or colors that can irritate your sensitive skin.
Our unique blend of active ingredients includes boric acid, peppermint, spearmint, frankincense, lemon essential oil, rose, lavender, calendula, ACV, mugwort, and red clover leaf. Each ingredient works together to gently cleanse and balance your pH levels, leaving your yoni feeling fresh and revitalized.
Using our Yoni Gel Cleanser is easy and convenient. Simply shake well before use and apply a couple of pumps to a wet hand towel or use your wet fingers. Gently wash your intimate area and between the folds, rinse, and dry to say hello to a clean, fresh, and soft yoni.
Invest in your feminine health and give your yoni the love and care it deserves with Selfish Yoni Gel Cleanser. Order now and experience the difference of a gentle yet effective cleansing with our 100% natural Yoni Cleansing Gel.