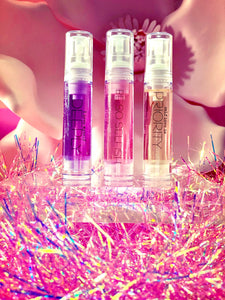 Deeply Skin Fragrance (10ml,purple)
We've curated three of our favorite sexy skin scents.
"Fragrance that evoke self love ."
DEEPLY
I love myself deeply.
Fruity. Sweet. Floral  . Truly makes you smell expensive AF.
Top Notes: Sparkling Strawberries, Citrus Cocktail, black currant
Middle Notes: freesia, rose, sweet pea jasmine
Base Notes: sandalwood, raspberry musky notes
Unique beyond your imagination!
I can't even begin to tell you how unique the purple fragrance is, although all of them are fantastically created! I started off with the sample pack of all the fragrances and I could barely make it through the work day without people stopping me in awe of this scent. The owner has a God given gift and I'm a customer for life. Try them all, meet the genius behind this company and you will NOT be disappointed. Her heart is one of a kind just like these fragrances. I'm blessed I'm ran into her. Try it ASAP, you're missing out. 💚