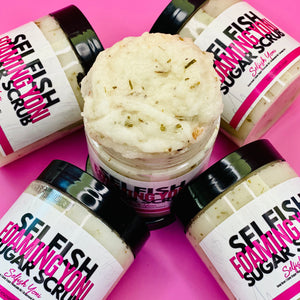 The most sensitive part of your body deserves to be radiantly soft and moisturized. 🌸
 For outer vaginal area.
Using our gentle foaming scrub 2-3 times per week to remove dead skin cells, discoloration and help prevent ingrown hairs.

Body Area: Outer vaginal areas, Intimate area, anal area, inner thighs area, armpits, elbows, feet, back area, knuckles
Main Purpose: Dark spots, discoloration, razor bumps, ingrown hairs, acne scars, radiant skin tone, body acne
*This product has not been evaluated by the FDA. In no way is this product intended to diagnose, treat, cure, or prevent any disease. Please read the ingredients listed carefully, and use products at your own risk. It is recommended to patch test all products before use. Immediately discontinue use if irritation occurs. BE So Selfish is not responsible for any burns, rashes, or complications you may acquire from use.