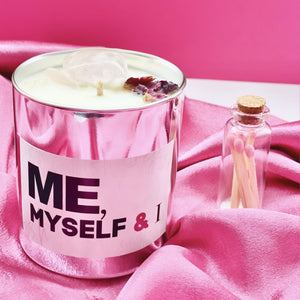 "ME, MYSELF & I" affirmation candle.
Can you say PEONY! OMG!
(candle comes with bottled matches, playlist and affirmations)
Smell so calm and good it'll have you singing ...Me, myself, and I, that's all I got in the end. That's what I found out, and it ain't no need to cry, I took a vow that from now on I'm gon' my own best friend.
100% handmade soy wax candle.
11oz - mirror, mirror room cylinder - 60-70 hours burn time (depends on proper burning and trimming)
Notes:

Top: Lily, Violet
Middle: Peony, Magnolia
Base: Powder
Always trim your wicks to ¼ at all times, and toss your candle when it reaches to ½ wax level. (allowing the wax to melt to all edges to prevent tunneling)
Always light candles away from any flammable items
Never leave a burning candle unattended
Keep away from children and pets
DO NOT burn once the wax has melted down to less than 1/4 inch