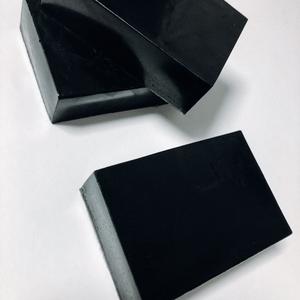 All natural, cruelty-free, and vegan soaps specifically made for you and your family.

All of these ingredients make this soap one of our best sellers for removing dark spots on your face, including acne scars.

Oil Benefits:

•Castor Oil- used for itching, blackheads, dandruff, scalp care. Contains vitamin E
•Tea tree Oil- this oil helps reduce acne while also soothing at the same time.
• Flaxseed Oil- this oil can be used to fight wrinkles, improve your skin texture, treat eczema, scars, stretch marks, psoriasis, and it's also anti-inflammatory and antiseptic. This also contains vitamin E, omega-3, and omega-six
•Almond Oil- this oil can be used as a dark spot remover, brighten skin tone, smooths rough skin, helps reduce inflammation due to sunburn, fights dandruff, contains vitamin A, B, E, and also calcium magnesium.

This soap is unscented and made with Shea butter and coconut oil soap base which is the white base, mixed with activated charcoal, which helps detox your skin and also pulls oil from your skin. We also added Teatree oil, almond oil, and castor oil as well. The tea tree oil gives it a slightly fresh scent but it is not overpowering.