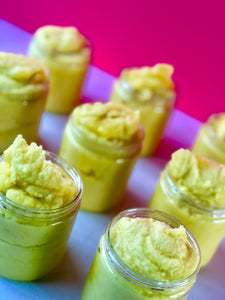 This is a foaming sugar scrub designed for Underarms, Pubic areas, and Dark Inner Thighs. This scrub helps to lighten the skin, reduce the wrinkles, and makes skin softer at sensitive areas, This is uniquely blended to mild exfoliate removes dead skin, ingrown hair dark spots, and brighten the skin naturally after a couple of uses. Reduce wrinkles especially underarms and sensitive areas.

Please do not use at least 2 days after shaving or bikini wax.

This also helps to reduce the risk of developing ingrown hairs. Turmeric Scrub removes dark skin caused by a buildup of dead skin. This is a natural remedy and takes times to lighten the skin naturally and permanently. Helps to remove dark spots, blackheads, red burns caused by shave, wax, or other skin conditions. Use 2 to 3 times a week in the shower for the best results.

INGREDIENTS:
Organic Shea Butter (Butyrospermum parkii), Vitamin E oil, Organic Sugar, Organic Turmeric Powder and Oil (Curcuma Longa), Extra virgin olive oil, Potato, Organic Lemon (Citrus medica limonum), Organic Honey, Organic Coconut Oil (Cocos nucifera), Apricot Kernel Oil (Prunus Armeniaca), Aloe Vera (Aloe Barbadensis), Lavender, LOVE And CARE.

HOW TO USE: Cleanse sensitive skin with lukewarm water while taking a bath/shower. Apply a generous amount of Sugar Turmeric Scrub and gentle massage in circular motion thoroughly.

CAUTION: For External Use Only. Do not use aftershave or Bikini wax and Brazilian Wax min 2 days. Bath Tub may be slippery after use. Oil / Butter will make any surface slippery. Keep out of reach of children. Discontinue use If Irritation or Itchiness occurs. Store in the dark and room temperature.

TURMERIC WARNING: Can stain any surface, clothes, etc..

Discontinue use If Irritation or Itchiness occurs.
*This product has not been evaluated by the FDA. In no way is this product intended to diagnose, treat, cure, or prevent any disease. Please read the ingredients listed carefully, and use products at your own risk. It is recommended to patch test all products before use. Immediately discontinue use if irritation occurs. BE So Selfish is not responsible for any burns, rashes, or complications you may acquire from use.
Best scrub ever
I've been struggling with acne for the past 3-4 years, I only tried a sample of this and she said use it for my Yoni but I tried it on my face and I noticed that my skin has been clearing up. I was soooo insecure about my dark spots I beat my face everyday but I've have been going out in public without any make up glowing and everything! This stuff is the great, I've literally tried everything and nothing worked I can't believe this worked wonders on my face. The Yoni wash is amazing too oh and baby that body spray/oil 😍🫠 I love all the products!!!