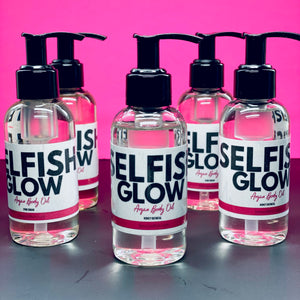 Argan Oil for Skin Health. Argan oil is made from the kernels that grow on the argan trees native to Morocco.
SELFISH GLOW it's not too heavy, not too light—making it perfect to use on all skin types. It's packed with omega fatty acids, vitamin E, and linoleum acids (one of skin's main moisturizing elements), all of which work to lightly moisturize your skin, soften dry patches, and even reduce acne.
All scents have you smelling and feeling extra yummy!
Honey Oatmeal, Pink Sugar & Heavenly Rain. All of our best selling body soap scents. It's like a match made in heaven, just perfect.
Amazing
This oil smells so good I want to eat myself. Not to mention it moisturizes my skin perfectly, which says a lot because I have very dry skin. This not my first time and will not be my last time ordering.