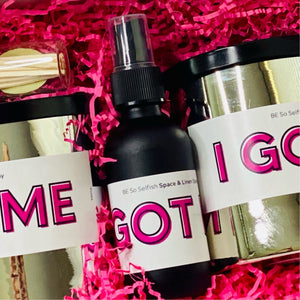 Our 2oz space spray sets the ambiance.
Masculine Notes
Top: amaretto
Middle:BEAN,WOOD
Base: rum, light musk, dark musk
Instantly create a relaxing environment wherever you go. Make your bed with a couple of sprays and return to smelL of paradise💕

Over 300 pumps in each bottle.

Spritz 2-3 times to release a light, freshly scented mist.



Made with alcohol, essential oils, and 100% natural fragrance oil.

Free of Artificial Colors, Parabens, Animal Derived Ingredients, & Formaldehyde
Amazing
I bought some bath bombs and a couple other things but most importantly I bought this spray from a really cute kiosk that was located at Legacy West absolutely love love love the spray everything else is wonderful of course! But the spray is like none other I've tried many different Linen sprays from the top of the line to the cheap smelly good stuff! There is literally no comparison I'm now officially addicted and will be buying this forever!