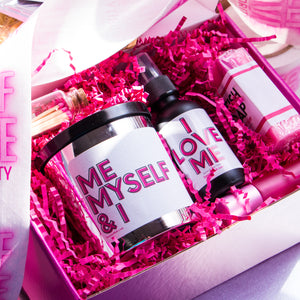 BE So Selfish Self|ish Care Box, gifting the priority of self love.
 Includes:
"Mirror Mirror" 11oz BE So Selfish Candle
Selfish Honey Oatmeal Soap Bar
Selfish Glow Body Oil
Face Towel
Self Love is priority greeting card. 
If you have a special message to include Email us : besoselfish@gmail.com and we ship to the shipping address provided.
Cute, easy, sweet and simple. (Pink Box, White BowTie Ribbon)
The gift box was for my cousin, and she loved it. I received a bath set with melts that I love. Be So Selfish always make their customers feel so special and I am grateful for that.💕
Simply amazing
All the products I've tried have not left me disappointed. I feel amazing, smell amazing and am so glad to Be So Selfish. Nothing compares
In Love
Baby, Your product is for me. The bath bubbles has my skin silky smooth. So In Love with So SELFISH.💕💕💕