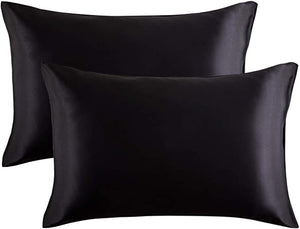 Be So Selfish Luxury Satin Pillowcases provides smooth and soft feeling to ensure your tight sleep. Create less friction of your beautiful hairstyle and reduces hair breakage than sleeping on cotton pillowcases.  Will NOT absorb moisture to help retain your shiny hair, perfect for curly hair. Silky and smooth satin pillowcases protect your hair to keep tangle and frizz free.
Maintain your skin soft and moisturized to beautify your face. Sleep on a satin pillow case can reduce friction to protect your eyelashes from creasing and stay healthier.
Cool to the touch! Reduce all that sweating in the middle of sleep. This not this sticky, icky fabric.
(1 pack)